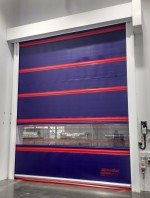 Reducing vermin access
Published: 26 March, 2019
Working for an international food, agriculture, financial and industrial products and services business, HART is installing a number of its Speedor high speed door range at a major UK production facility.
With 19 Hart doors across six production facilities already operational, the current contract is to replace existing roller shutters, which remain open all day, with seven Speedor Storms, one Speedor Super and one fast action roller shutter.
Peter Cairns, Hart's area salesman, says "the emphasis is on speed of open/close cycles to significantly reduce vermin access mainly from pigeons, seagulls and geese attracted by the feed/agricultural nature of the production process".
Hart says it is also delighted to be part of a drive to improve energy efficiency by 5% by 2020 and to maintain a better working environment and temperatures within the building as well as preventing unauthorised access to different areas of the plant
t: 0191 214 0404