Back in the pioneering days of photo-electric sensing technology the sensor itself was often referred to as a 'magic eye'. To the unenlightened, only familiar with purely mechanical solutions, the use of light may indeed have seemed mysterious and magical. Now confined to history these cumbersome devices with their incandescent light source are a far cry from the ultra-efficient, LED or laser based products available today. PWE reports.
Sign up for the PWE newsletter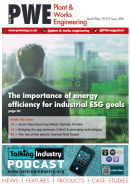 Latest issue
To view a digital copy of the latest issue of Plant & Works Engineering, click here.

View the past issue archive here.

To subscribe to the journal please click here.
To read the official BCAS Compressed Air & Vacuum Technology Guide 2018 click the image
Poll
"What is the most important issue for UK manufacturers during Brexit negotiations? "
Twitter
Events Diary