Southern Manufacturing and Electronics 2017 returns to FIVE, Farnborough, from March 21 - 23. The show brings together an array of hardware, component vendors and engineering service providers in a single event. PWE reports.
The Internet of Things (IoT) has the power to revolutionise industrial processes for the better, but there are plenty of pitfalls that will need to be avoided. Safeguards can help us navigate this new landscape. Andy Bailey, solutions architect, Stratus, reports.
Sign up for the PWE newsletter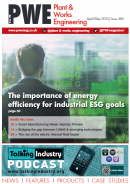 Latest issue
To view a digital copy of the latest issue of Plant & Works Engineering, click here.

View the past issue archive here.

To subscribe to the journal please click here.
To read the official BCAS Compressed Air & Vacuum Technology Guide 2018 click the image
Poll
"What is the most important issue for UK manufacturers during Brexit negotiations? "
Twitter
Events Diary