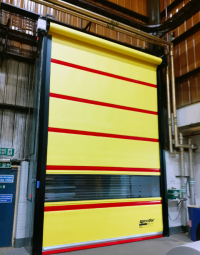 Speedor Storms for major manufacturer
Published: 07 April, 2021
Hart Doors has recently installed a pair of its high-speed Speedor Storm doors at a major manufacturing/recycling plant in the Midlands. The plant, which annually supplies over 275,000 tonnes of polythene products, also recycles over 95,000 tonnes of UK waste from industrial, commercial, agricultural and domestic sources.
"Together with the latest Speedor Storms we have nearly 30 Speedors on site," says Melanie Rosby, marketing manager, Hart Doors. "The doors are a crucial part of an objective to improve energy efficiency, maintain a better working environment and temperatures within the building as well as reducing vermin access."
The new doors will form an automatic interlock so that the outer door will close allowing the inner door to open automatically and hold open while deliveries are made. Each Speedor has a clear vision panel.
The doors are suitable for high usage of up to 1 million operations.
Hart's area salesman Peter Cairns says the customer has been a Hart client since 1990. "We have Speedor Supers still working from that time," says Mr Cairns. "The 30 or so doors on site are a mix of Supers, Storms and Roller shutters and we also have the maintenance contract for site."
He adds: "The recent installation is two Storms in automatic airlock which is the first time we have done this with two Storms. The new airlock is designed to omit minimal heat loss from the factory whilst loading goods out of the factory into an annex, where goods are collected.
"The heat loss affects the machinery as well as the work force. There is also a safety element which means one door cannot open until the other door is closed. Once the door is fully closed the other door opens automatically."