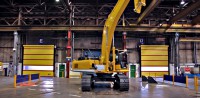 Moving into film
Published: 27 October, 2020
HART DOOR SYSTEMS says it is the first specialist door company in the UK to manufacture high-speed doors and has moved into a series of short films to high-light its successes.
The most recent is a profile of Hart's work at Komatsu's 200,000 sq m plant at Birtley, Co Durham, where Hart has installed over 60 doors across a range of door types including Speedor Cleanrooms, Speedor Storms and electric roller shutters.
"On analysis Komatsu's operation in the North East is a huge success, manufacturing excavators, dump trucks, dozers and loaders for a global market," says Hart's chairman, Doug Hart. "We have been involved since the 1980s. Such a large facility brings with it many challenges such as the need to ensure an efficient flow of large vehicles associated with production.
"In addition other issues include heat loss and pedestrian safety within the building. This is a fast-moving, highly efficient, business where safety and reliability are paramount. Though our doors are a small part of the highly efficient facility, which so far has produced over 60,000 units, we play our part through delivering doors that take account of the environment and daily usage," says Mr Hart.
"Our solution has been to provide a first-class service by offering support and parts when required and due to the reliability of the doors, maintaining the safe, efficient running of the facility. Each Hart door is made to measure and each safety device and activator is fitted to suit specific areas, giving Komatsu a safe and secure working environment for its employees."
Komatsu and Hart began their relationship with the installation of one of Hart's earliest prototype Speedors. Due to the success of the door, four Speedors and four roller shutters were installed in 1992. Over the years, Hart has installed over 60 doors and only recently replaced some of the original doors installed in 1992.
Mark Stephenson, production engineering manager, Komatsu, says "Komatsu has used Hart Doors for many years as we find them reliable in service."
t: 0191 214 0404
w: www.hartdoors.com/case-study/komatsu