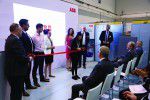 Engineering centre doubles in size
Published: 13 November, 2018
Following a doubling in workshop space, ABB says its UK Engineering Centre now offers its customers extended services including engineered upgrades, retrofits and tailored replacements.
ABB says it has doubled the size of its UK Engineering Centre to tackle demand for servicing variable speed drives (VSDs), developing specialist test rigs (STRs) and customer training.
Floorspace at the site in Coalville, Leicestershire, has been increased from 830 m2 to 1789 m2. The site houses the latest ABB-certified workshop – one of 17 throughout the world - offering repairs and upgrades to low voltage AC and DC drives and medium voltage AC drives. The centre's load test facilities ensure VSDs are tested under realistic conditions before being returned to a customer.
The facility upgrades third party medium voltage drives, as well as those of ABB. "Many operators across multiple industries are finding that their variable speed drives are no longer supported by the original vendor. ABB can integrate new variable speed drives and control platforms to these systems, ensuring operators can continue to benefit from their substantial investment in equipment," says Stuart Melling, business unit manager, ABB Drives UK.
The new facility houses ABB's STR business, for which a new class of test rig for electric vehicles, incorporating battery simulators and electric chargers, is being developed.
ABB says the location boasts the largest VSD training school in the UK, offering customers access to certified courses covering low-, medium- and high-power drives.
W: www.abb.com
Click here for the full unedited version of the release as provided by the company