Headline News
The CBI has commented on the suspension by Hitachi of their £20 billion investment in the Wylfa nuclear power plant in Wales.
Latest Features
For anyone involved in works management, Southern Manufacturing offers a wide range of relevant products and services, from health & safety solutions, through all kinds of production hardware to management software and consumables.
Dave Bigham, director of global training initiatives at surface preparation equipment specialist National Flooring Equipment, discusses the importance of dust collection for manufacturers.
Industrial plant operators are increasingly supporting better decision-making by using the digitalisation capabilities available through instrumentation and plant management systems. Saverio Barbero Lodigiani and David Lincoln for ABB Measurement and Analytics in the UK, explain how these capabilities can help to boost plant and process performance by providing the data needed for smarter operation and maintenance.
Replacing unreliable belt drive systems with gear motors and variable speed drives has enhanced control and reduced breakdowns at a German sewage treatment plant. PWE reports.
As we move along the road towards Smart Manufacturing the subject of cyber-security is becoming arguably even more important. Chris Evans, marketing & operations group manager, Mitsubishi Electric Europe B.V. Automation Systems Division, reports.
Video of the month
Editor's Comment
I'm not sure that I can add anything new about the current state of British Politics other than I am as bemused as anyone as to how things are playing out.
Product & Services Directory Suppliers
Sign up for the PWE newsletter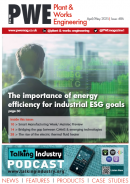 Latest issue
To view a digital copy of the latest issue of Plant & Works Engineering, click here.

View the past issue archive here.

To subscribe to the journal please click here.
To read the official BCAS Compressed Air & Vacuum Technology Guide 2018 click the image
.
Poll
"What is the most important issue for UK manufacturers during Brexit negotiations? "
Twitter