Headline News
The Institution of Engineering and Technology (IET) recently celebrated its 150th anniversary and the rich history it holds dating back to 1871. To date, the IET has built a global community of 158,000 members, across 153 countries, spanning all disciplines of engineering and technology.
Latest Features
Compressed air accounts for a significant part of total energy costs for industrial manufacturers - typically about 12% and may be as high as 40% in some facilities. This means that any compressed air energy savings that are achieved will have a big impact on a factory's total energy consumption and CO2 emissions. PWE reports
The Fluke TiS20+ and TiS60+handheld infrared thermal imaging cameras are now available from RS Components (RS). Offering easy one-handed fixed-focus image capture, these new infrared imagers are ideal for engineers and technicians new to thermal imaging, allowing accurate non-contact temperature measurement from a safe distance to reveal invisible thermal issues that cannot otherwise be detected.
Of all the risks that face modern commercial buildings, electrical fires are one of the most common and damaging. Fire endangers health, property and the business itself – with 25% of businesses who suffer a fire never reopening. Stewart Gregory* reports.
In order to ensure the safer and more efficient handling of extrusion billets at Hammerer Aluminium Industries' (HAI) HQ in Ranshofen, Austria, the company is now using three multidirectional forklifts from the Irish manufacturer Combilift. PWE reports.
New Tork productivity guide provides five steps to using "kaizen" to create a sustainable competitive advantage
Video of the month
Editor's Comment
Digitisation is revolutionising modern manufacturing and has without doubt kept it running successfully over the past year. The rewards are obvious - technological leaps in the design, development, fabrication and operation of the goods and services the UK makes. But the cyber security threat to manufacturers is growing and evolving with it.
Product & Services Directory Suppliers
Sign up for the PWE newsletter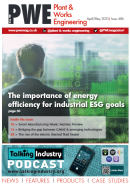 Latest issue
To view a digital copy of the latest issue of Plant & Works Engineering, click here.

View the past issue archive here.

To subscribe to the journal please click here.
To read the official BCAS Compressed Air & Vacuum Technology Guide 2018 click the image
Poll
"What is the most important issue for UK manufacturers during Brexit negotiations? "
Twitter