Headline News
Leading speakers from across the food & beverage industry have been lined-up for the forthcoming dedicated digitalisation conference for the food & beverage industry: 'Demystifying the jargon: How to make the digitalisation transition', which takes place on 22 May 2019 at the National Conference Centre, Birmingham.
Latest Features
The CEA's "Industrial Gas Accreditation Scheme" (I-GAS) provides a comprehensive qualification for Maintenance Personnel, Technicians, Engineers and Designers of Industrial Gas Systems. CEA director, David Kilpatrick, reports.
A family owned precision engineering company in Coventry has achieved a 10% increase in its forward order book and has made double-digit productivity gains with the help of experts from the Manufacturing Technology Centre (MTC).
Threaded assemblies are the most important detachable parts used in machinery construction, installation and repair. Relaxation of tension and self-loosening is common for any machine but when it is operating in harsh environments, the need to minimise this deterioration with effective thread locking is even more important. Various methods are available but what are their respective strengths and failings?
Crown Imperial has recently overhauled and enhanced handling procedures at its Herne Bay headquarters by bringing in a number of Combilift models to replace counterbalance and reach trucks that were previously used. PWE reports.
Progressive cavity pump specialist SEEPEX has developed a new system to improve dewatered sludge handling, enabling long distance transfer with reduced operational costs by using a combination of PC pump technology and dense-phase conveying.
Video of the month
Editor's Comment
There are massive opportunities ahead for UK industry despite continuing political uncertainties, and we should remain optimistic about our future prospects. UK manufacturing is back on the map, due to the brilliance of our companies, which have made such a success of supply chains and the modern marvel of just-in-time logistics. During these unsettling times, it is easy to forget what we do best, and only if we continue to be outward looking to reflect the world-class innovation and manufacturing skills we possess, will the UK cope with the challenges and take advantage of the new opportunities.
Product & Services Directory Suppliers
Sign up for the PWE newsletter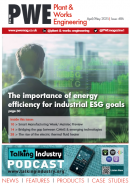 Latest issue
To view a digital copy of the latest issue of Plant & Works Engineering, click here.

View the past issue archive here.

To subscribe to the journal please click here.
To read the official BCAS Compressed Air & Vacuum Technology Guide 2018 click the image
Poll
"What is the most important issue for UK manufacturers during Brexit negotiations? "
Twitter