Headline News
Business transformation experts Sharing in Growth recently announced that productivity gains made through its aerospace competitiveness programme have resulted in more than £3 billion in contracts.
Latest Features
Over 400 exhibitors are expected at IMHX 2019 as supply chain issues look set to top the post-Brexit agenda. PWE reports.
Dave Dyer, technical sales engineer at Global Heat Transfer, explains how a detailed understanding of a heat transfer system can help manufacturers maintain efficiency and prevent costly downtime.
Sean Robinson, service leader at industrial analytics platform supplier Novotek UK & Ireland, explains how plant managers can make proactive maintenance even more effective with machine learning.
RS Components (RS), has introduced two rugged diagnostic videoscopes from Fluke that target maintenance engineers and other professionals needing to undertake equipment inspections and diagnose problems in a wide variety of industrial applications.
Dr Chris Wright, head of R&D at Global Heat Transfer, explains why heat exchanger maintenance is a whole system issue.
Video of the month
Editor's Comment
Prioritising the rapid digitalisation of UK manufacturing and the economy as a whole is at the heart of improving industry's overall competitiveness, and predictive maintenance - the anticipatory servicing of machinery and plants - has a key role to play within any smart strategy.
Product & Services Directory Suppliers
Sign up for the PWE newsletter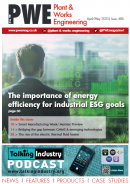 Latest issue
To view a digital copy of the latest issue of Plant & Works Engineering, click here.

View the past issue archive here.

To subscribe to the journal please click here.
To read the official BCAS Compressed Air & Vacuum Technology Guide 2018 click the image
.
Poll
"What is the most important issue for UK manufacturers during Brexit negotiations? "
Twitter