Headline News
Make UK and language experts FlashAcademy have teamed up to help save lives and reduce workplace incidents.
Latest Features
Ian Hart* sets out the many benefits – commercial and otherwise – of reducing water consumption in manufacturing and argues that businesses should adopt an altogether different approach to a precious resource that will come under increased pressure in the years ahead.
Svendborg Brakes says its newly launched Industrial Internet of Things (IIoT) solution is empowering the mining industry to boost its operations. PWE reports.
The food industry often presents challenging environments for components and, in particular, for the sensors used in process control applications. In addition, users' expectations of sensor technology are continually increasing. These considerations mean that the future belongs to smart sensors that not only offer outstanding performance and reliability but also deliver substantial added value, says Andy Walker *.
The way in which bearings are mounted has a profound effect on both the performance and reliability of these vital machine components. Mark Townsend* lays-out the key principles for mounting bearings successfully and describes a tool that ensures such operations can be carried-out quickly and accurately
We all know how easy it is to lose our footing, catch our foot in something or fall off a ladder. But when it happens at work, it's a whole different ball game. Andy Pye explains
Video of the month
Editor's Comment
2020 will not go down in the history books as the most celebrated of years but will almost certainly be the most notorious to look back on.
Product & Services Directory Suppliers
Sign up for the PWE newsletter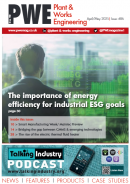 Latest issue
To view a digital copy of the latest issue of Plant & Works Engineering, click here.

View the past issue archive here.

To subscribe to the journal please click here.
To read the official BCAS Compressed Air & Vacuum Technology Guide 2018 click the image
Poll
"What is the most important issue for UK manufacturers during Brexit negotiations? "
Twitter