Headline News
The International Federation of Robotics (IFR) latest report on the state of world robotics highlights the extent to which UK manufacturing is losing ground on international competitors. Tom Bouchier, managing director at FANUC UK, thinks this needs to be a wake-up call for the UK manufacturing industry:
Latest Features
The energy cost to run an electric motor over ten years is at least 30 times the original purchase price. With energy consumption responsible for the vast majority of whole life costs, Marek Lukaszczyk of motor and drive manufacturer, WEG, explains five ways to improve motor energy efficiency. Thankfully, changes in a plant do not have to be huge to reap savings. Many of these changes will work with your existing footprint and equipment.
PWE spoke to Phil Kemp, general manager at SAACKE Combustion Services Ltd, which is celebrating its 60th year of business in the UK, to discuss the importance of low NOx combustion, the future of Hydrogen Boilers within UK manufacturing, and the importance of servicing combustion equipment.
Automatic lubricators and Arcanol grease ensure conveyor motor bearings run reliably at opencast mine. PWE reports.
The UK's lockdown response to COVID-19 has affected most industries, and in the case of utilities companies, a reduction in the workforce will add stress to a network of systems and devices that require regular maintenance. For many, this has been a stark wake-up call emphasising the need to build greater resiliency into operations.
As a consequence of the Government's recent announcement to the delay of events taking place from October 2020, and the continued uncertainty and local lockdowns, DFA Media, organiser of Plant & Asset Management Exhibition and co-located shows, has announced the event has been rescheduled for 5th - 7th April 2022, which will take place alongside MACH Exhibition. The co-location of events include:
Video of the month
Editor's Comment
The recent announcement by the Chancellor Rishi Sunak that the Job Support Scheme will replace the Job Retention Scheme, is extremely welcome and will mitigate unnecessary redundancies, it has also been generally well received across UK industry.
Product & Services Directory Suppliers
Sign up for the PWE newsletter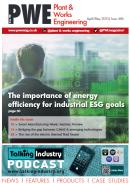 Latest issue
To view a digital copy of the latest issue of Plant & Works Engineering, click here.

View the past issue archive here.

To subscribe to the journal please click here.
To read the official BCAS Compressed Air & Vacuum Technology Guide 2018 click the image
Poll
"What is the most important issue for UK manufacturers during Brexit negotiations? "
Twitter