Headline News
Subcon , the UK subcontract manufacturing supply chain show, has revealed new figures from its annual barometer of the UK manufacturing and engineering supply chain. The numbers paint a picture of an industry beginning to exhaust its approach to encouraging female engineering talent to either enter or re-enter UK manufacturing and engineering.
Latest Features
As the deadline on Brexit moves back to Halloween, corporate attention turns to reassessing the balance of risk to supply chains – the levels of inventory needed to secure supply, the costs of extending contracts, and the potential horrors of trying to find well-located warehouse space. Steve Purvis, operations director at Bis Henderson Space, reports.
When a damaged steam turbine rotor needed to be repaired, a power generation plant in Indonesia turned to Sulzer. Rather than wait for at least a year for a new rotor from the original equipment manufacturer (OEM), the plant opted for a repair that took only sixteen weeks. This quick and effective repair also managed to achieve an 8% improvement in efficiency.
Muntons, one of the UK's largest producers of malted barley protect vital parts of their production process against unscheduled downtime by using the Smart Condition Monitoring (SCM) system from Mitsubishi Electric. PWE reports.
Manufacturing is an energy-hungry industry, requiring huge quantities of both heat and electricity. This high demand for energy means that the manufacturing sector is ideally suited to take advantage of Combined Heat and Power (CHP) systems. However, making the investment requires some careful consideration, says Nigel Thompson, sales manager – Gas Power Solutions at Finning UK & Ireland (Finning).
Video of the month
Editor's Comment
Skills creation and nurturing has always been the Achilles heal of British engineering – we have an abundance of talent but we fail to proactively encourage, keep and nurture the skills we need as an engineering nation.
Product & Services Directory Suppliers
Sign up for the PWE newsletter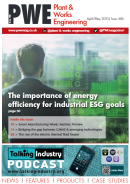 Latest issue
To view a digital copy of the latest issue of Plant & Works Engineering, click here.

View the past issue archive here.

To subscribe to the journal please click here.
To read the official BCAS Compressed Air & Vacuum Technology Guide 2018 click the image
Poll
"What is the most important issue for UK manufacturers during Brexit negotiations? "
Twitter