Headline News
The Engineering Equipment and Materials Users Association (EEMUA) has announced that the winner of its Early Years Industry Award 2023 is Rana Abdalla, an Electrical Engineer at BP (pictured). The award recognises the efforts of new starters within the engineering field in EEMUA member companies, demonstrating their communication skills, engineering application and leadership in their specific specialism.
Latest Features
Tan Delta Systems, a manufacturer of real-time oil quality monitoring sensors and systems is leading the way within the plant, works and maintenance sector with the launch of SENSE-2. The new oil condition monitoring kit provides real-time data about machine oil quality to optimise maintenance and reduce operating costs.
The Lifting Equipment Engineers Association (LEEA) presented the winners of the LEEA Awards 2023 with their trophies at the Awards Dinner on 21st November, held at the Rum Warehouse in Liverpool. The winners of the annual awards recognising excellence in the lifting industry are as follows:
SICK has launched an Industry 4.0 on-premise data intelligence platform that enables manufacturing and logistics organisations to optimise their operating performance. SICK Field Analytics can be quickly and easily set up to provide meaningful, application-specific condition monitoring and process insights, independently of an organisation's existing machinery and systems.
School pupils, university students and engineers travelled to London this week for the highly prestigious Primary Engineer MacRobert Medal Award Ceremony to receive recognition for their work in creating a Prototype based on a school pupils engineering idea.
Businesses, industry, academia and communities in West Cumbria are reported to be well-placed to work together to maximise a wealth of opportunities.
ABB has announced it has launched its new global sustainability initiative, showcasing the power of technology and expertise to accelerate sustainability while enhancing productivity. ABB says its Real Progress campaign is a rallying call to customers, partners and suppliers, inspiring them to harness technology leadership and the solutions that exist today to amplify their own impact across process industries such as mining, metals, and pulp and paper.
Lifting equipment specialist, Konecranes, has launched its RailQ 3D crane runway survey programme. The package has been designed to provide highly accurate measurement of crane runway alignment and is backed by comprehensive analysis of cloud-based data.
Video of the month
Editor's Comment
In a recent study of 2436 individuals, conducted by Savanta for Make UK, the manufacturers' organisation in collaboration with Sheffield Hallam University, a transformation in public perception regarding manufacturing in the United Kingdom is taking place. The findings of the survey, "Perceptions vs Reality", reveal an encouraging shift in the way the British public views the manufacturing sector, reflecting a newfound appreciation for its significance in the nation's economy and its ability to tackle contemporary challenges.
Product & Services Directory Suppliers
Sign up for the PWE newsletter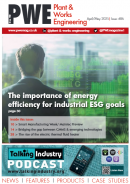 Latest issue
To view a digital copy of the latest issue of Plant & Works Engineering, click here.

View the past issue archive here.

To subscribe to the journal please click here.
Poll
"How is your manufacturing business preparing for a net Zero target?"
Twitter