Headline News
The Tomorrow's Engineers Code brings employers together to inspire a diverse engineering workforce. Pennon Group has joined as a Signatory to The Code in order to continue inspiring the next generation to pursue a career within the energy and utilities sector.
Latest Features
Andy Pye reports on June's Talking Industry, which covered the topical subject of Energy Efficiency in Manufacturing.
Implementing a thorough obsolescence management policy and having a robust methodology for the purchase and stocking of genuine automation components are vital to success, yet many businesses have not put comprehensive plans in place, says Leroy Spence, Director at Obso Global
The Talking Industry series of online panel discussions are now available in a convenient podcast format.
HART DOOR SYSTEMS has secured its largest order for its Speedor Storm door, the high-performance exterior roller door designed for frequent use in high traffic situations and constructed to withstand harsh environments including 90mph for wind class 5.
Dr Martin Lawrence, Combustion Development Specialist at Air Products, looks at how digitalisation can enhance aluminium recycling to boost efficiency.
Video of the month
Editor's Comment
With the election of the new conservative leader and consequently new Prime Minister still weeks away from being decided, manufacturers are stressing that the Future UK Government must move away from short-term, gestures politics. Make UK's recent Q2 Outlook survey, announced prior to Boris Johnson standing down as Prime Minister, highlighted the need for immediate measures that focused on demonstrating to businessand, foreign investors, that it has the capacity to operate in a serious manner with a long-term vision befitting a modern and outward looking Britain.
Product & Services Directory Suppliers
Sign up for the PWE newsletter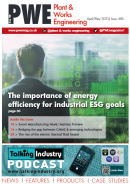 Latest issue
To view a digital copy of the latest issue of Plant & Works Engineering, click here.

View the past issue archive here.

To subscribe to the journal please click here.
To read the official BCAS Compressed Air & Vacuum Technology Guide 2018 click the image
Poll
"How is your manufacturing business preparing for a net Zero target?"
Twitter