Headline News
The National Manufacturing Institute Scotland has announced that John Reid has been appointed as chief executive officer to lead the growth and development of the group of industry-led manufacturing research and development facilities at the heart of the Advanced Manufacturing Innovation District Scotland led by Renfrewshire Council.
Latest Features
Plug-and-play condition monitoring can help companies quickly deploy predictive equipment maintenance within an overall digital-transformation strategy. PWE reports.
Workplace risk is an acknowledged reality but the implementation of a well thought through safety policy will significantly reduce such risk. Our eyesight is precious and demands the selection and provision of high-quality safety eyewear which not only 'protects' but which enhances wearer compliance due to excellent comfort and fit features. It's clear that high quality personal protective equipment (PPE) can significantly reduce the high real cost of personal injury (productivity, litigation and income) while enabling more people to return to their families safe and sound. Clair Weston, marketing manager at UVEX, reports
Vibration analysis has long been the instrument of choice to use for bearings and other rotating equipment. More commonly, ultrasound is being used in conjunction with vibration analysis to help technicians confirm the condition of mechanical assets. PWE reports
Maintenance processes are changing, and with them the skillsets needed by maintenance personnel. PWE consultant editor Andy Pye, tracks the march towards advanced technologies, with a nod towards some innovations, which would have been shown at the ill-fated 2020 Hanover Fair.
DFA Media, organiser of Plant & Asset Management Exhibition and co-located shows, has been actively monitoring and following advice regarding the Coronavirus outbreak (Covid-19) over the past weeks. It has been decided that the events will be postponed and rescheduled for 25th-27th January 2021, which will take place alongside MACH Exhibition. The co-location of events include:
Video of the month
Editor's Comment
Preparing now for a potentially very different manufacturing landscape and investing in skills during this difficult period may not be possible for everyone, but by doing so it will help to ensure that firms retain their competitive advantage and grow their businesses, as well as being able to maintain their talent to be able to thrive in a post-COVID 19 world.
Product & Services Directory Suppliers
Sign up for the PWE newsletter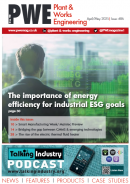 Latest issue
To view a digital copy of the latest issue of Plant & Works Engineering, click here.

View the past issue archive here.

To subscribe to the journal please click here.
To read the official BCAS Compressed Air & Vacuum Technology Guide 2018 click the image
Poll
"What is the most important issue for UK manufacturers during Brexit negotiations? "
Twitter