Headline News
Make UK has launched an updated series of Health & Safety training to enable professionals to gain valuable expertise to build their careers in health & safety and sustainability
Latest Features
Combilift officially launched the latest addition to its product portfolio in a virtual press conference on February 3rd. The NEW Aisle Master-OP (AME-OP) is a pioneering stand-on electric powered model that combines the advantages of a narrow aisle articulated forklift and an order picker for versatile operation in warehousing applications.
PWE takes a look at how to select the right blower technology for industrial effluent treatment plants.
PWE takes a look at technical boiler house risk assessments, from their legalities to the potential savings that can be achieved.
Industry 4.0 encompasses so much more than simply optimising existing processes. Automation company Pilz has drawn up a universal, digital concept – from ordering through to commissioning with its latest modular safety relay myPNOZ. PWE reports
PWE takes a look at how two articulated forklifts ensured efficient storage and handling procedures
Video of the month
Editor's Comment
I 'm not quite sure how you would describe the first few days of 2021 a lot would depend on your perspective of whether the cup is half empty or half full. But whatever your view the extremely positive start to the UK's rollout of the vaccination programme against COVID-19 along with the EU-UK deal being passed gives hope of optimism for the year ahead and the return to some normality for both individuals and businesses.
Product & Services Directory Suppliers
Sign up for the PWE newsletter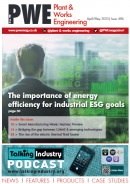 Latest issue
To view a digital copy of the latest issue of Plant & Works Engineering, click here.

View the past issue archive here.

To subscribe to the journal please click here.
To read the official BCAS Compressed Air & Vacuum Technology Guide 2018 click the image
Poll
"What is the most important issue for UK manufacturers during Brexit negotiations? "
Twitter