Headline News
£40 million is to be invested in 5G testbed and trial projects across UK industry as part of Government plans to improve mobile connectivity.
Latest Features
As a millwright, service technician or any type of field or in-house mechanic, we understand there is one main goal that we have in common, which is to keep the equipment running. This includes repairing and minimising downtime in the event of an unpredicted failure or breakdown. James Pekarek
Mitsubishi Electric has introduced a new app for iOS tablets and smartphones that provides convenient commissioning, maintenance, troubleshooting, parameterisation and monitoring support for the company's FR-F800E and FR-A800E inverters. Available from the Apple App Store, the Inverter StartApp addresses modern requirements to glean more information from manufacturing processes, with easier accessibility, and to be able to act on that information in a timely and convenient manner.
The UK is once again facing some recording-breaking temperatures this summer. And so the main question on everyone's minds will soon be, how do we keep our workplaces cool and comfortable, without wasting money, energy or resources? It's a question that comes up every year. Humidity Solutions spoke to PWE to give some inside info on how to keep your environment cool by remembering one important factor – humidity.
A thermal image analysis and reporting software, FLIR Thermal Studio, designed to manage large sets of thermal images and videos has been introduced by FLIR Systems.
Precision sensor technologies are not only proving their value during the production and testing of wind turbines, but also in the real time condition monitoring of operationally active onshore and offshore wind farms, says Chris Jones, managing director of Micro-Epsilon UK.
Video of the month
Editor's Comment
With major cyber security breaches making the news in recent weeks, the various scares highlight the importance of protection for manufacturers, and at the recent Hannover Messe, cyber security was a major theme for this year's event.
Product & Services Directory Suppliers
Sign up for the PWE newsletter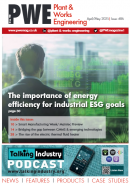 Latest issue
To view a digital copy of the latest issue of Plant & Works Engineering, click here.

View the past issue archive here.

To subscribe to the journal please click here.
To read the official BCAS Compressed Air & Vacuum Technology Guide 2018 click the image
Poll
"What is the most important issue for UK manufacturers during Brexit negotiations? "
Twitter