Headline News
Britain's manufacturers are calling on the Government to consider payment holidays for companies who took out Covid interruption loans in the face of an unprecedented combination of a post Covid credit, cash and costs crunch according to a major survey released recently by Make UK and RSM.
Latest Features
Fifteen water injection pumps are optimising production at Iraq's largest oil field. PWE reports.
The British Compressed Air Society (BCAS) is urging food producers to consider the benefits of onsite nitrogen generation, to help mitigate the risk of CO2 gas shortages in the future. PWE reports
PWE looks at the installation of VSRT steam boilers at a food processing facility, which is expected to cut costs by a significant 21%, while also reducing carbon emissions by almost 25% and nitrous oxide (NOx) levels by 75%.
ABB has launched it Ability Genix Asset Performance Management (APM) Suite for condition monitoring, predictive maintenance and 360- degree asset performance insights for the process, utility and transportation industries.
Video of the month
Editor's Comment
The recent Budget has generated a mixed response from manufacturers. Although Make UK highlighted that there were some welcome announcements on business rates and the extension of the annual investment allowance, the announcements on skills amounted to little, if any, new money while the delay in the R&D spending target goes against the aim of making the UK a science superpower.
Product & Services Directory Suppliers
Sign up for the PWE newsletter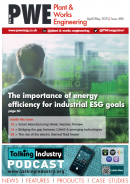 Latest issue
To view a digital copy of the latest issue of Plant & Works Engineering, click here.

View the past issue archive here.

To subscribe to the journal please click here.
To read the official BCAS Compressed Air & Vacuum Technology Guide 2018 click the image
Poll
"How is your manufacturing business preparing for a net Zero target?"
Twitter