Headline News
An unmanned module to tackle sewer blockages and a digital system for mass-producing customised clothing are just two cutting-edge solutions from 14 startups selected for the Made Smarter Technology Accelerator programme.
Latest Features
Konecranes has supplied a material handling system, incorporating an Sseries crane, at ABB Limited's Drives Service Workshop (DSW) in Coalville, Leicestershire. The contract represents the first installation of the new generation S-series model in the UK.
Most pump failures are maintenance or installation-related and that is good news because it means that a lot can be done to minimise the risk. Proactive maintenance is key to eliminating common failure. It extends the useful life of the pump and increases both its efficiency and reliability. Bob Orme* reports.
The use of technology is becoming increasingly intertwined with our everyday lives, and even more so within numerous industry operations. Covid-19 has of course exacerbated this fact, highlighting the importance of technology and encouraging companies to think innovatively to overcome the challenges they face. Chris Potts* reports.
In the fourth panel discussion in our Talking Industry series, three experts on plant safety and security got together to discuss the latest thinking on these topics. Andy Pye, consultant editor of PWE, who chaired the session, reports on some of the highlights of the lively discussion.
A Babcock Wanson BWD40 Fire Tube Boiler has been installed in the Real Petfood Company's manufacturing facility in Bodelwyddan, north east Wales, where it is being used to heat retort cookers and mixing vessels for high quality baked semi-moist pet treats and super premium biscuit products.
Video of the month
Editor's Comment
Britain's manufacturers are beginning to move through the gears as growth prospects become more positive for the rest of the year! This was according to a major survey published by Make UK, which gives many manufacturers hope that that light is starting to appear at the end of the tunnel. While we must all be cautious as there are numerous things that could throw a spanner in the works, this nevertheless provides an indication of the positive attitudes that are beginning to take hold with the UK manufacturing sector.
Product & Services Directory Suppliers
Sign up for the PWE newsletter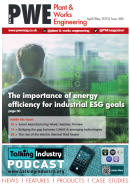 Latest issue
To view a digital copy of the latest issue of Plant & Works Engineering, click here.

View the past issue archive here.

To subscribe to the journal please click here.
To read the official BCAS Compressed Air & Vacuum Technology Guide 2018 click the image
Poll
"What is the most important issue for UK manufacturers during Brexit negotiations? "
Twitter