Headline News
From designing cheap inserts to improve the function of face masks to writing algorithms to compare package holidays, 10 remarkable projects from young people aged 15 to 18 have been shortlisted to compete for a major national title as part of this year's finals of The Big Bang UK Young Scientists & Engineers Competition.
Latest Features
An international company with patents worldwide - and offices in North Wales, Jersey, Singapore and the Philippines - iVapps -  has announced it will launch the latest addition to its award-winning pipeline application at a live virtual event from its UK research and development hub on Tuesday June 29 at 10am.
Sean Robison* explains what modern technologies to implement that can improve overall equipment effectiveness and operational resiliency.
Andrew Normand* looks at how the power of AI can save plant operators a small fortune
With one of two cooling water pumps out of action, and the other showing worrying vibration, the on-site power plant at a major chemical plant in Belgium risked a costly and disruptive unscheduled shutdown. Quick action was needed to first address the immediate issue, then fix the problem for the long-term. PWE reports.
New Tork productivity guide provides five steps to using "kaizen" to create a sustainable competitive advantage
Video of the month
Editor's Comment
Digitisation is revolutionising modern manufacturing and has without doubt kept it running successfully over the past year. The rewards are obvious - technological leaps in the design, development, fabrication and operation of the goods and services the UK makes. But the cyber security threat to manufacturers is growing and evolving with it.
Product & Services Directory Suppliers
Sign up for the PWE newsletter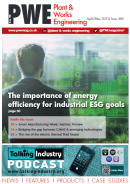 Latest issue
To view a digital copy of the latest issue of Plant & Works Engineering, click here.

View the past issue archive here.

To subscribe to the journal please click here.
To read the official BCAS Compressed Air & Vacuum Technology Guide 2018 click the image
Poll
"What is the most important issue for UK manufacturers during Brexit negotiations? "
Twitter