Headline News
Team UK - 37 of the brightest and best young apprentices (and former apprentices) - is in a Russian rush to get started at the 'Skills Olympics' in Kazan, which opened in front of 54,000 spectators on Thursday August 22nd.
Latest Features
PWE's Aaron Blutstein caught up with Arron Farghaly, lead applications and business development engineer at Atlas Copco, to discuss his recent experiences on the company's Graduate Programme.
Today's plant automation systems provide transparent monitoring of system status, plus tools such as condition monitoring or predictive maintenance – all help to reduce unscheduled downtime. However, what about brownfield installations with legacy equipment? Hartmut Pütz* and Thomas Lantermann** report.
Spidex Software has announced that IMI Truflo Marine has selected Mainsaver CMMS to support improved maintenance management processes at its factory in Birmingham, UK. PWE reports.
James Thompson, managing director of Gen-C, an independent CHP parts and service provider, explains five smart upgrades that can transform any gas engine into a more efficient and profitable piece of kit.
Video of the month
Editor's Comment
With so much uncertainty surrounding Brexit, manufacturers are becoming increasingly frustrated and desperate to move on. But one thing is very certain - the new Prime Minister must not underestimate the benefits of a good deal for British manufacturers as it will unlock new investment and confidence in factories and boardrooms across the country. It should also not be underestimated that Europe still has huge belief in the UK and getting a deal will ultimately open many doors that have been closed by uncertainty.
Product & Services Directory Suppliers
Sign up for the PWE newsletter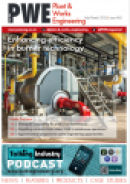 Latest issue
To view a digital copy of the latest issue of Plant & Works Engineering, click here.

View the past issue archive here.

To subscribe to the journal please click here.
To read the official BCAS Compressed Air & Vacuum Technology Guide 2018 click the image
Poll
"What is the most important issue for UK manufacturers during Brexit negotiations? "
Twitter