Headline News
Students from Farnborough Hill in Hampshire have been announced as the UK winners of the EEP Robotics Challenge.
Latest Features
A ferry ride across Hong Kong's harbour in the early stages of a typhoon caused Doug Hart, chairman of Hart Industrial Doors, to pause – just what sort of technology would be needed to create a secure, protective, shutter that could withstand the full impact of a typhoon he asked himself writes Chris Dobson*
The occasion of the 2022 Drives and Controls exhibition, and its co-located shows (5 to 7 April), marked the first Talking Industry Live sessions. Here, the online panel discussions which were proven successfully online during the lockdown period, and which have now evolved into a regular monthly online event, morphed into a physical event for the first time. Andy Pye reports on the Maintenance session.
Brittany Phillips* explains how adaptive thermal solutions (ATS) can provide an answer to common heat processing challenges.
Johan Jonzon* explains how edge analytics provides instantaneous data to prevent unscheduled downtime
Talking Industry's latest panel discussion looked at the future of Plant & Asset Management. Andy Pye highlights the discussion
Kieran Bennett explains how to select the right valve for steam temperature control.
Video of the month
Editor's Comment
As we approach midyear, 2022 has so far been what I think can only be described as another momentous and unprecedented period! With Covid-19 restrictions non-existent in the UK and normality returning for most of us, the war in Ukraine and inflation has now overtaken our attention.
Product & Services Directory Suppliers
Sign up for the PWE newsletter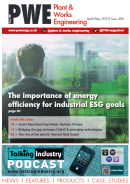 Latest issue
To view a digital copy of the latest issue of Plant & Works Engineering, click here.

View the past issue archive here.

To subscribe to the journal please click here.
To read the official BCAS Compressed Air & Vacuum Technology Guide 2018 click the image
Poll
"How is your manufacturing business preparing for a net Zero target?"
Twitter