Headline News
The skills gap is challenging businesses across all industries. As companies implement advanced technologies, they often struggle to find workers with the skills to match.
Latest Features
There are an estimated 100,000 needlestick or sharps injuries in the UK every year, with many more taking place but not being reported. Cuts and lacerations from blades, saws, materials or machinery are also one of the most common workplace injuries and inadequate hand protection can be a factor in many of these accidents. PWE reports.
Technological innovation, such as the development of industrial IoT (Internet of Things) has made it possible to use machine data to improve operational performance and process efficiency. The availability of IoT has made it possible to optimise the remote monitoring and maintenance capabilities it offers to minimise the costs and consequences of both planned and unplanned downtime. This is a process commonly referred to as predictive maintenance. But even with these benefits, some manufacturers have yet to adopt it. PWE reports.
Maintec, the dedicated UK maintenance and reliability event returns to the NEC in October. PWE takes a closer look.
Andy Kellett, FLT Specialist at Calor, discusses some of the most popular myths surrounding fuels for forklift trucks (FLTs).
Video of the month
Editor's Comment
As the Brexit deadline of 31st October approaches many, including myself, are nervous as to what the outcome for British manufacturing will be. The uncertainty that has surrounded industry has been going on for what now seems an eternity. Any release of this uncertainty through a negotiated deal with the EU would undoubtedly be a huge relief valve for investment.
Product & Services Directory Suppliers
Sign up for the PWE newsletter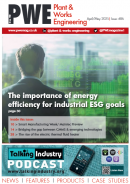 Latest issue
To view a digital copy of the latest issue of Plant & Works Engineering, click here.

View the past issue archive here.

To subscribe to the journal please click here.
To read the official BCAS Compressed Air & Vacuum Technology Guide 2018 click the image
Poll
"What is the most important issue for UK manufacturers during Brexit negotiations? "
Twitter