Headline News
Vodafone has become a national funding partner for the Primary Engineer STATWARS Competition, it was recently announced.
Latest Features
As the government makes moves to open businesses and get the country's workforce off of furlough and back into the work environment, there are many companies for whom the rest of the year – and beyond – will be challenging.
The theme of the second in the series of Talking Industry panel discussions was Increasing Automation in the post-COVID era. Chairman Andy Pye reflects on a session which set out to look forward to the opportunities, but couldn't quite shake off the barriers from the past.
Monitoring equipment performance and scheduling maintenance when needed reduces the likelihood of unplanned downtime due to equipment failure. This saves the costs of "reactive maintenance" fees and equipment repair costs, while extending the lifespan of machine assets. Andy Pye reports.
SKF has extended the capability of its Enlight ProCollect portable data collection system, enabling maintenance engineers to plan lubrication routes around a factory or process operation.
As a consequence of the Government's recent announcement to the delay of events taking place from October 2020, and the continued uncertainty and local lockdowns, DFA Media, organiser of Plant & Asset Management Exhibition and co-located shows, has announced the event has been rescheduled for 5th - 7th April 2022, which will take place alongside MACH Exhibition. The co-location of events include:
Video of the month
Editor's Comment
With another lockdown underway, and an extension regarding the furlough scheme for November, I have to admit that like many I was slightly surprised that there was then another extension announcement a matter of days after announcing the original extension.
Product & Services Directory Suppliers
Sign up for the PWE newsletter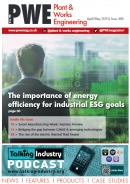 Latest issue
To view a digital copy of the latest issue of Plant & Works Engineering, click here.

View the past issue archive here.

To subscribe to the journal please click here.
To read the official BCAS Compressed Air & Vacuum Technology Guide 2018 click the image
Poll
"What is the most important issue for UK manufacturers during Brexit negotiations? "
Twitter