Headline News
Research published by the Royal Academy of Engineering indicates that the gender pay gap is smaller in the engineering profession than the UK employee average. The mean (10.8%) and median (11.4%) pay gap for engineers in the sample analysed is around two-thirds the national average.
Latest Features
Q; What beacon colour should I use for my industrial signaling?
Effective plant isolation is key to ensuring maintenance and engineering managers working in UK industry can continue to improve safety and increase competitiveness, according to a new guide published.
Businesses are under increasing pressure to respond flexibly and efficiently. But how can materials handling operations provide the agility needed, with minimum exposure to risk? Alan Clark, asset manager at Doosan Industrial Vehicle UK, provides a five-point guide to flexing your assets.
David W. Neville, S.S. White Technologies, Inc, takes a look at the benefits of flexible shafts in industrial drain cleaning.
The biennial co-located events; Plant & Asset Management, Drives & Controls, Smart Industry Expo, Fluid Power & Systems, and Air-Tech Exhibitions – are once again set to return to Birmingham's NEC between the 21st -23rdth April 2020, alongside MACH 2020.
Video of the month
Editor's Comment
By the time you receive this month's issue of PWE, the UK will be in the last days of its membership of the European Union, and has avoided the undesirable scenario of leaving the EU without a deal (for now at least) - much to the relief of industry. The General Election has also given some clarity as to the direction of travel over the coming months. However whatever your opinion on leaving the EU, manufacturers will hope that the next 10 months will see greater scope within Government to focus on a long term vision for the economy that will result in a comprehensive free trade agreement between the UK and EU that will be in the best interests of everyone.
Product & Services Directory Suppliers
Sign up for the PWE newsletter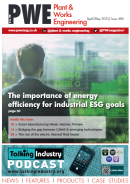 Latest issue
To view a digital copy of the latest issue of Plant & Works Engineering, click here.

View the past issue archive here.

To subscribe to the journal please click here.
To read the official BCAS Compressed Air & Vacuum Technology Guide 2018 click the image
Poll
"What is the most important issue for UK manufacturers during Brexit negotiations? "
Twitter