Headline News
A new production site for the manufacture of factory automation (FA) control system products has been announced by Mitsubishi Electric. The company has acquired 42,000m2 of land in Owariasahi City, Aichi Prefecture, in Japan and is expected to be open from April 2025.
Latest Features
While there are some similarities between RFID tags and barcodes, there are also significant differences. Tony Coghlan, Managing Director at Turck Banner explains how his company is specialising in harvesting these extra benefits.
HART DOOR SYSTEMS has announced it has redesigned its logo and launched a refreshed website to improve the visibility of the company online.
The manufacturing and engineering sectors made a strong display of its innovation and confidence at the recent co-located events; Drives & Control, Smart Industry Expo, Plant and Asset Management, Fluid Power & Systems, and Air-Tech Exhibitions – held at Birmingham's NEC from 5 to 7 April. PWE reports.
A petrochemical processor was recently forced to make an emergency shutdown to reveal that it was being supplied with counterfeit bearings. Most people do not fully appreciate the scale of the counterfeiting problem or the risks it creates. At a time of rising demand and growing pressures on supply chains, Chris Johnson* asks if the problem of counterfeiting may be on the rise.
Enterprise Asset Management (EAM) software provider Ultimo has added an autonomous maintenance feature to its platform to allow plant operators to carry out and track simple maintenance tasks using the same software as the maintenance team. PWE takes a closer look.
Paul Bowers, Toyota Material Handling's counterbalance specialist, considers some of the factors driving the rise of the electric-powered forklift market.
Video of the month
Editor's Comment
Innovation and confidence were definitely on show at Plant & Asset Management and the colocation of events taking place alongside it at the NEC, Birmingham between the 5-7 April.
Product & Services Directory Suppliers
Sign up for the PWE newsletter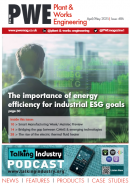 Latest issue
To view a digital copy of the latest issue of Plant & Works Engineering, click here.

View the past issue archive here.

To subscribe to the journal please click here.
To read the official BCAS Compressed Air & Vacuum Technology Guide 2018 click the image
Poll
"How is your manufacturing business preparing for a net Zero target?"
Twitter