Headline News
Five brand new digital manufacturing research centres and projects to help supply chains become more productive are among recipients of £53 million of new government funding to drive the development of the latest digital manufacturing technologies, Investment Minister Lord Grimstone recently announced.
Latest Features
Over the past few decades, we have already started to witness the automation evolution take place. Now with the ongoing pandemic acting as a driver for uptake, with two thirds of business leaders using automation to respond to the impact of COVID-19, more and more businesses are looking to automate their processes and take advantage of innovative technology, particularly with social distancing measures in place. PWE reports.
Gates (NYSE: GTES), a leading global provider of application-specific fluid power and power transmission solutions, has announced it has introduced MEGASys MXT with XtraTuff
A wastewater pumping system at a large shopping centre in Bristol was causing a headache for facility managers, as it was suffering multiple breakdowns. Designed to pump wastewater from a 1000 L basement tank over a 10m head and along to the main drains, two pumps kick in once a certain level is reached, emptying the tank. However, the 20-year-old system was showing its age. The tank itself was leaking, causing the seepage of wastewater into the basement area. This required clean up, which was jeopardising the reopening of shops post-lockdown.
Matt Watson* explores potential solutions as to how organisations might mitigate current demand and bridge the gap between old technology and new.
Roy Brooks, technical development officer for the British Compressed Air Society (BCAS) outlines some of the latest advice in working safely with compressed air.
A pneumatic valve island for process automation now includes Switching Time Monitoring to ensure improved predictive maintenance, and longterm dosing accuracy.
Video of the month
Editor's Comment
PWE's editorial has reported on numerous technological advances since its creation in 1981, none more so than the rapid technological developments as a consequence of the COVID-19 pandemic, and the extremely important response by the UK manufacturing and engineering sectors to help step up production of vital medical equipment.
Product & Services Directory Suppliers
Sign up for the PWE newsletter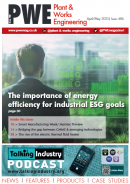 Latest issue
To view a digital copy of the latest issue of Plant & Works Engineering, click here.

View the past issue archive here.

To subscribe to the journal please click here.
To read the official BCAS Compressed Air & Vacuum Technology Guide 2018 click the image
Poll
"What is the most important issue for UK manufacturers during Brexit negotiations? "
Twitter