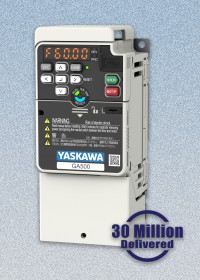 Longevity and success
Published: 05 May, 2021
Motion control technology group YASKAWA has announced it has delivered its 30 millionth inverter drive and also reached 20 million units in its servo drives division.
Active in the servo drives market since 1959, the company says it was the first to develop a DC servomotor, known as the Minertia Motor and this was followed by the first AC servomotor series in 1983 and then in 1992 by the Sigma Series, which has been refined into the current Sigma 7 Series.
Yaskawa says it began developing and producing inverters in 1974 with the world's very first transistor inverter and today its current generation is the GA500 Series of variable speed drives which set new standards in performance. These compact inverter drives help users to simplify complex technologies by combining outstanding reliability and ease-of-use with performance and adaptability.
Click here for the full release
e: salesuk@yaskawa.eu.com