Angle grinders launched
Published: 14 December, 2017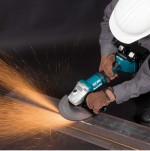 MAKITA has introduced two heavy duty cordless angle grinders to its industrial range powered by twin 18v batteries to give 36v power to the brushless, high performance motor and says these new cordless grinders deliver remarkable mains machine type performance with the added benefit of total manoeuvrability.
Makita says a host of new features, especially in the machine electronics, ensures maximum operating productivity and at the same time affords a high level of protection for the machine and the operator in tough industrial application.
The new Makita LXT 180mm DGA700 and 230mm DGA900 angle grinders are both powered by high torque Brushless motors that will run up to 7,800 rpm and 6,500 rpm respectively. Maximum wheel thickness can be 7.2mm for the DGA700 and 6.5mm for the DGA900.
Click here for the full unedited version of the release as provided by the company