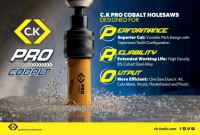 High performance Hole Saws range
Published: 12 October, 2021
Always looking to help its customers drive sales, CARL KAMMERLING INTERNATIONAL (CKI) says it is offering unbeatable discounts on its comprehensive range of high performance C.K PRO COBALT Hole Saws. The company says manufactured with premium grade alloy steel and 8% cobalt, PRO COBALT guarantees a superior cut, greater reliability and a more efficient output.
Customers will also be able to take advantage of new eye-catching range displays designed to allow consumers to make a quick and easy choice. A strong social media and consumer advertising campaign is also planned to communicate powerful key messages.
Providing everything trade professionals need to power through jobs quickly and efficiently, C.K PRO COBALT is said to be faster than standard hole saws, and to deliver a quick and effortless cut for a variety of materials including metal, wood, plastic and plasterboard.
Click here for the full release
t: 01758 704704