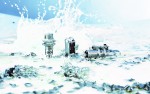 Tough stainless-steel sensors
Published: 10 March, 2020
WITH the release of Inox versions of its GR6 rectangular and GR18 cylindrical sensors, SICK says it has delivered rough, tough, high-availability photoelectric performers for detection duties in harsh environments such as chemical washdown or the presence of aggressive oils, lubricants and dust.
Designed for universal compatibility and easy installation in industrial machines, the SICK GR6 Inox and GR18 photoelectric sensors are ECOLAB-certified and feature corrosion-resistant V4A (316L) stainless steel housings rated up to IP69K, combined with specialist screen coatings and seals that ensure high resistance to corrosive chemicals.
While the GR6 Inox is no bigger than a sugar cube, the GR18 Inox offers standard M18 thread-mounting, so the sensors together present versatile options for through-beam, retro-reflective or proximity sensing duties.
t: 01727 831121
e: andrea.hornby@sick.co.uk
Click here for the full unedited version of the release as provided by the company