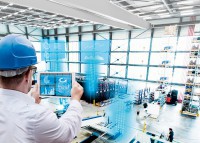 Twinning sensors with the Cloud
Published: 12 May, 2021
SICK has announced that its new LiveConnect web service will be the standard for bringing live data from SICK sensors to their digital twins in the Cloud, supporting customer progress towards Industry 4.0 digitilisation.
SICK LiveConnect is an easy-to-use, real-time monitoring App that manages the routing and forwarding of live sensor data, so that it can be integrated into online dashboards and software.
SICK says with LiveConnect, users will get real-time insights into their devices from the shopfloor right through to the enterprise level and as a result, processes can become more transparent and maintenance costs can be reduced. The live operating data will help operators to monitor production efficiency in real time and improve their Overall Equipment Effectiveness (OEE).
Click here for the full release
t: 01727 831121
e: andrea.hornby@sick.co.uk.