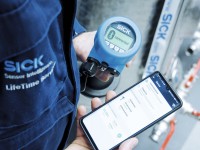 Continuous level measurement
Published: 20 May, 2021
SICK says its innovative non-contact radar sensing technology is opening up the prospect of robust and reliable real-time monitoring of the levels of liquids and bulk solids in challenging industrial applications. The SICK SicWave uses higher-frequency 80 gigahertz free-space radar to overcome the limitations of lower-frequency radar sensors or mechanical devices to achieve precision continuous level measurement in demanding environments.
Where previously operators have settled for switch point level indication or have been defeated by the challenges of using non-contact sensors in harsh environments, the narrowly focused, highly effective microwave pulses of the SICK SicWave sensors penetrate through dust, vapour and material build-up to output highly accurate results.
Click here for the full release
t: 01727 831121
e: andrea.hornby@sick.co.uk.