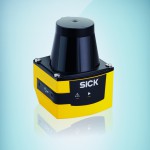 Plugging the low-risk safety gap
Published: 28 June, 2019
SICK has announced it has launched the first 2D LiDAR sensors safety-certified to PL b, specifically designed to plug a gap for lower-risk applications where safety-rated integration is needed in small, low-speed automated guided vehicles and carts, service robots or collaborative robots.
The company says the SICK TiM361S and TiM781S 2D LiDAR sensors are economical, lightweight and compact with a safety certification to EN ISO 13849-1:2015 PL b and can be integrated inconspicuously into low-speed, small or lightweight mobile or stationary applications, following completion of an appropriate risk assessment. They can also be used where secondary safety detection is required to complement higher-rated systems already in place.
Using SICK's patented Safe HDDM+ time-of-flight infra-red scanning technology, with a 270° scanned field of view, the sensors offer exceptional object detection and measurement accuracy.
t: 01727 831121
e: andrea.hornby@sick.co.uk.
Click here for the full unedited version of the release as provided by the company