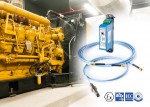 Proximity probes prove ideal solution
Published: 02 October, 2019
Among the many performance and monitoring tests required to ensure dependable and durable engine performance across a wide range of power applications is the need to measure relative shaft vibration in dynamometers. This is where condition monitoring specialist SENSONICS says it excels with a range of proximity probes which make an essential contribution to overall engine performance.
The company says a recent example is a major manufacturer of large industrial diesel engines used for a wide range of industrial applications including fruit picking machines, mining trucks, commercial and recreational marine craft. A cutting-edge technical centre is a global focal point for engine development and low-emissions technology for its engines and includes a wide range of testing services for customers.
The technical centre is co-located with the main engine manufacturing plant and in close proximity to test cells which are dedicated to engine research & development work for mining, rail, oil & gas, marine and power generation industrial applications.
The company purchased two dynamometers and also Sensonics eddy current proximity probes for measuring relative shaft vibration. A senior technician commented, "We were considering purchasing more sensors and as a result of the performance of the Sensonics eddy current probes we decided to take a closer at what they could offer". He confirmed, "Basically, we needed a solution for measuring relative shaft vibration in our dynamometers and we really appreciated the repeatability and reliability of the Sensonic sensors. They have done a great job in reporting driveline failures as well as alignment issues, before they became catastrophic failures". As a result of the performance of the Sensonics eddy current proximity probes the company decided to install them on the other dynamometers in their technical centre for condition and vibration monitoring applications.
t: 01442 876833.
e: sales@sensonics.co.uk
Click here for the full unedited version of the release as provided by the company