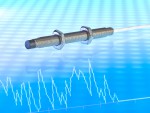 Fully integrated proximity probes
Published: 29 April, 2020
The extensive range of proximity sensors available from condition monitoring specialists SENSONICS now includes its fully integrated PRI Series. Building on their established Senturion proximity probe range, the PRI Series offers a single probe assembly solution with direct processed outputs which eliminates the need for a separate driver.
The company says recent design enhancements have resulted in improved performance for less demanding OEM applications with operating temperatures up to 120ºC such as; industrial gearboxes, pumps fans, blowers and hydro-generator applications. Meanwhile the 180ºC rated standard XPR04 probes with separate drivers would be suitable for use on higher temperature machines such as turbines.
Proximity probes play an important role in machine shaft vibration, position and speed measurements, providing operators critical information on the rotating plant dynamic performance and bearing condition.
More at: https://www.sensonics.co.uk/products/vibration-and-position-monitoring/
t: 01442 876833
e: sales@sensonics.co.uk
Click here for the full unedited version of the release as provided by the company