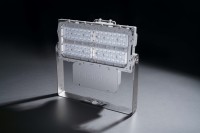 LED Floodlight range
Published: 24 August, 2021
DIALIGHT GROUP, a leader in industrial LED lighting innovation, has announced it has launched its new ProSite LED floodlight range for the EMEA and APAC markets.
Launched at the Offshore Technology Conference in Houston, the floodlights are designed for industrial applications providing superior visibility to external worksites with crisp, near daylight illumination to ensure the safety and security of a diverse range of facilities including oil & gas, petrochemical, transport and other external storage areas.
The new ProSite series is currently available in 12,000 – 65,000 lumen models, reaching up to 165 Lumens Per Watt (LPW), for mounting heights of up to 30metres. The floodlights integrate highly efficient precision optics, offering a wide range of beam patterns from narrow-spot to very wide, symmetric or asymmetric, and are capable of withstanding harsh environments.
Click here for the full release