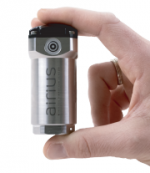 Wireless vibration sensors
Published: 28 June, 2019
SPM INSTRUMENT AB, a leading worldwide provider of condition monitoring technology and products, has announced the release of AiriusTM, a range of wireless vibration sensors for remote monitoring of industrial equipment. The company says providing warning of vibration-related problems as well as gear and bearing faults, Airius is a wireless, battery-powered sensor ideal for remote condition monitoring of standard production equipment such as pumps and fans.
Designed and manufactured by SPM Instrument, the sensors build on fifty years of experience in developing reliable and industry-leading solutions for condition monitoring.
Remote condition monitoring of machinery enables maintenance departments to cut down on maintenance routes, leaving time to work on improvements in other areas of the plant. It also saves costs in terms of cabling and other hardware associated with wired sensors.
t: 01706 835331
e: info@spminstrument.co.uk

Click here for the full unedited version of the release as provided by the company