New product launch
Published: 16 February, 2017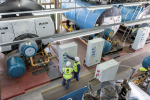 JBC says there are exciting times ahead with its new product launch. The company says 'HALO' uses cutting edge technology to create a remote boilerhouse monitoring system, using analogue, digital and mod bus outputs, providing a critical overview into asset performance and fuel, water, steam and power are monitored in real time, delivering consumption and cost per Kg of steam raised.
Through OPEX, Halo predicts 'real time' cost savings through precise monitoring of energy.
JBC says instant alarm facilities and essential features, minimise costly downtime in production lead environments or interruptions to critical processes with the capability to monitor numerous assets across multiple sites, through one application.
t: 0113 220 3830
e:info@jbcmail.co.uk
Click here for the full unedited version of the release as provided by the company