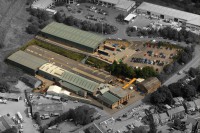 Key supplier celebrates 75 Years
Published: 28 May, 2021
A key supplier to advanced manufacturing and technology firms, STREET CRANE COMPANY, is celebrating its 75th year of continual innovation in crane technology.
Having made a solid reputation for reliable lifting in the traditional manufacturing sector, in the last few decades the company says it has focussed attention on the advanced manufacturing sector. Smart lifting technology originally developed for automotive, aerospace and military customers, has led the company into new sectors with recent crane applications for Fanuc Robotics / 4IR and a specially engineered 'Doughnut' crane for the AMRC's Factory 2050 facility in Sheffield.
Advance features that make Street cranes attractive to technology led manufacturers include automation and extensive condition monitoring. Programmable speed control and load dependent speeds give precise movements for accurate and safe load positioning.
Click here for the full release
t: 01298 812456
e: Mark.Hadfield@Streetcrane.co.uk