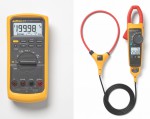 Key maintenance test tools
Published: 06 September, 2018
FLUKE says while stocks last at its authorised distributors, as part of the celebrations of its 70th year it is reducing the recommended sale price of two key maintenance test and measurement tools with a saving of around 20% until the 1st of October 2018.
The company says the offer includes the Fluke 87V Industrial Multimeter, which provides accurate measurements on adjustable speed motor drives and other electrically noisy equipment, and the Fluke Connect compatible 376 FC Clamp Meter, which can troubleshoot intermittent faults with logging and wireless data transmission capabilities for real time collaboration with colleagues away from the field.
The Fluke 87V DMM has the measurement functions, troubleshooting features, resolution and accuracy to solve many problems associated with motor drives, and plant automation, power distribution and electro-mechanical equipment. It is engineered to withstand voltage spikes of 8kV and to help protect users against the hazards of arc flash. It includes a plug-in Fluke 80BK temperature probe, which can be used to easily check whether overheating is involved in a system breakdown.
Click here for the full unedited version of the release as provided by the company