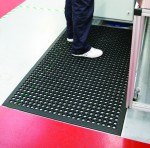 Workshop maintenance
Published: 04 October, 2018
FIRST MATS says keeping a workshop well maintained not only ensures that all machinery is running at its best, but also reduces the chance of accidents happening. A poorly maintained workshop is a haven for trip and fall hazards, not to mention accidents that could occur from the use of poorly maintained tools and equipment.
The company says that one area that is consistently overlooked when thinking about workshop maintenance however, is the floor.
To ensure that a workshop is a safe environment, and to also help ensure the comfort of visitors and staff while working in the premises, floor mats should be replaced regularly. Contact an industrial flooring mat specialist to find out more about changing and maintaining workshop floor mats.
Click here for the full unedited version of the release as provided by the company