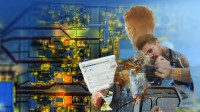 Kickstart predictive maintenance deployment
Published: 06 July, 2021
SENSEYE, a leading AI driven asset health management company, has announced it has launched its new plug and play Starter Parks to help organisations rapidly begin their predictive maintenance journey.
The packs, which combine sensor hardware with Senseye's award winning PdM software, mean organisations can launch their predictive maintenance deployments in as little as 14 days – guaranteed, without already having sensors or data capture in place.
The company says with no hardware vendor lock-in and no existing sensor data required, the Starter Kits are perfect for quickly monitoring rotating and non-rotating general industrial machinery including motors, fans, and pumps.
The packs also allow organisations to easily scale up to a full or multi-site deployment when they're ready, combining the Starter Kits with other data sources.
Click here for the full release
.