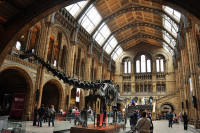 Saying goodbye to dust
Published: 06 September, 2017
The Natural History Museum has not only been updating the main hall with the replacement to the 112 year old exhibit Dippy, but also the maintenance workshops have had a full upgrade with new dust extraction and centralised ducting systems.
The iconic exhibit Dippy, is being replaced by an 83ft whale skeleton, which will serve as a reminder of our responsibility to the planet. As part of a 10-year modernisation programme, FERCELL says it was delighted to carry out modifications to the NHM's existing dust extraction system.
The current dust extraction/collection unit and centralised ducting system firstly needed to be dismantled and carefully removed from the site.
Two newly supplied dust extractors were installed, one servicing the left hand side and the other servicing the right hand side. The right hand unit is equipped with a diverter valve so that either the down-draft suction table or the other machine tools are serviced at any one time.
t: 01622 791414
e: info@fercell.com
Click here for the full unedited version of the release as provided by the company