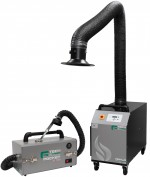 New fume extraction system
Published: 05 October, 2020
New from WILKINSON STAR, one the of the UK's largest independent distributors of Welding and Industrial Equipment, is the F-Tech Fume technology product range of high vacuum fume extraction systems and welding torches.
Welders and operatives can be exposed to welding fumes, grinding dust and oil mist in the working environment. It is therefore obligatory for employers to create safe and healthy working conditions.
The F-Tech Armur is a high vacuum dust extraction system offering a mobile solution to extract dust from manual welding and grinding processes. The Armur unit features a high performance German motor and a choice of 3 mtr suction Armoflex or Armotech cantilever arm and a user friendly digital panel with hour meter, clogged filter alarm. This unit offers E12 99.5% filter efficiency.
t: 0161 728 7900
e: sales@wilkinsonstar.com
Click here for the full release