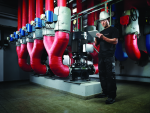 Which assessment is the right one?
Published: 07 November, 2019
GRUNDFOS OPTIMISATION SERVICES asks "which assessment is right for you?" and continues: Pumps are at the heart of your facilities. Day in and day out, pumps make your business run, but they come at a price. Not so much to purchase, but in the daily operation of the pump. In fact, 85% of the total costs of your pumps relate to the energy used to run the pumps - and there is money to be saved. An Energy Check of your pumps can provide a solid foundation for saving 30-50% on the operational costs of your pumps. Any installation with old, over-sized, inefficient or unsuitable pumps is likely to hide this kind of savings – and the Energy Check helps you discover the potential. Grundfos offers a number of different energy efficiency assessments: Energy Check, Energy Check Advanced, Pump Audit and Thermo Dynamic Testing.
The company says if you want a quick assessment of the typical savings that can be made by upgrading to high efficiency pumps on one or more of your pumps, then the Grundfos Energy Check is a good place to start. With an advanced energy check it can monitor the energy and performance characteristics of every pump in your facility at once, this can often provide wider benefits than just energy monitoring, often highlighting problems with valve performance and incorrectly specified pumps.
t: 01525 850000
e: grundfos-uk@sales.grundfos.com
Click here for the full unedited version of the release as provided by the company