Manual control dosing pumps
Published: 05 November, 2015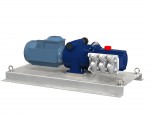 WANNER INTERNATIONAL reports it has introduced a range of Hydra-Cell, ATEX approved Dosing Performance Pumps with precise mechanical variator control, all mounted on a substantial stainless steel base plate.
The company says these seal-less pumps are designed for use in ATEX classified environments, coupled to compatible, explosion proof motors, completely removing the need for complex and costly external VFD ATEX control.
Because Hydra-Cell pumps are true positive displacement pumps, Wanner says flow rate is directly proportionate to input shaft speed and virtually independent of system discharge pressures. Very precise and repeatable, infinite adjustment of shaft speed is achieved from almost zero rpm, through a simple manual adjust hand wheel on the variator.
Flow rate is adjustable in operation and at rest and exhibits linear setting characteristics.
t: 01252 816847
e: NHerrington@wannerint.com
Click here for the full unedtied version of the relase as supplied by the company