High-flow pump
Published: 04 April, 2016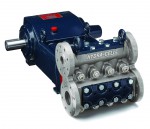 WANNER says its new, seal-less, hydraulically balanced diaphragm pump offers flow rates up to 366 lpm at pressures up to 103 bar.
The company says Hydra-Cell T100E pumps are 'packing-free' and designed to replace horizontal multi-stage centrifugal pumps and packed triplex plunger pumps and with multiple-diaphragms in a single pump head, Hydra-CellT100E pumps eliminate hazardous emissions and clean-up and disposal costs of packed-pump leakage. The design also eliminates the need for external lubrication as well as the plunger wear problems associated with packing.
Wanner says leak-free Hydra-Cell T100 Series pumps can run dry without damage, will operate with a closed or blocked suction line, and can pump abrasive fluids effectively. These performance features are claimed to enable the T100E pumps to compete successfully with conventional plunger pumps.
t: 01252 816847
e: NHerrington@wannerint.com
Click here for the full unedited version of the release as provided by the company