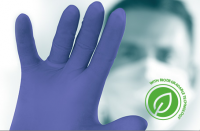 Biodegradable nitrile glove
Published: 28 April, 2022
Hand protection specialist UNIGLOVES has announced it has launched a new nitrile disposable glove – BioTouch – combining chemical resistance, comfort and grip with innovative, environmentally friendly, biodegradable technology.
The company says the result is a glove which, after its working life, will achieve 90% biodegradation in landfill after just 490 days compared to traditional nitrile gloves which can take over 100 years.
Providing the wearer with high levels of comfort, flexibility and dexterity, BioTouch is resistant to a range of chemicals and offers improved grip in wet and oily conditions thanks to its textured fingertips. It is also compatible for use with mobile, tablet and touchscreen displays, has been tested to EN374 and EN1186 and is manufactured to medical grade standards.
Click here for the full release
t: 0800 049 6602
e: enquiries@unigloves.co.uk