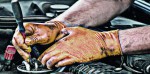 Single use glove solutions
Published: 02 August, 2018
Global single use glove specialist UNIGLOVES, reports it has launched a new brochure bringing together its latest high performance, ground breaking hand protection solutions in one easy to use place.
Able to be downloaded free at: https://unigloves.co.uk/resources/literature/ the new 32-page brochure provides detailed information on the very latest glove solutions from Unigloves – including its industrial glove solutions.
The new brochure introduces the range of PRO.TECT industrial gloves – designed to be stronger than traditional gloves on the market. The more durable products - such as the new silicone free PRO.TECT Orange HD - are also chemical resistant to protect against, oils, grease and other industrial fluids.
Available in standard and extended cuff variations they are also offered with a raised grip pattern for enhanced grip in wet and oily environments.
t: 0845 009 0083
e: enquiries@unigloves.co.uk
w: https://unigloves.co.uk/resources/literature/
Click here for the full unedited version of the release as provided by the company