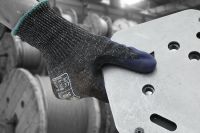 Reusable hand protection solutions
Published: 27 September, 2021
Hand protection specialist UNIGLOVES has announced it has launched of a new range of reusable gloves and specialist electrical safety gloves with specific solutions designed for workers in the industrial and manufacturing sectors.
The company says the new Unigloves Nitrex industrial gloves range ensures truly comprehensive hand protection against all major risk categories including chemical, cut, impact, thermal and electrical hazards.Protective performance features for the new gloves include cut, puncture and abrasion resistance, through to dry, wet and oil grip in addition to chemical resistance. It also includes protective sleeve and gauntlet options along with a range of dip coatings.New surface technologies have also been created.
For those having to wear their gloves for extended periods of time or in warmer environments, Unigloves has also incorporated Sanitized Actifresh in selected products.
Click here for the full release
t: 0800 049 6602
e: enquiries@unigloves.co.uk
https://unigloves.co.uk/reusable-gloves/nitrex/summary or https://unigloves.co.uk/reusable-gloves/sibille-safe/summary