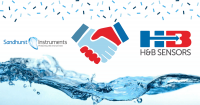 Fully integrated service for sensor solution requirements
Published: 21 April, 2022
SANDHURST INSTRUMENTS and H&B Sensors have announced that they have entered a strategic partnership and this collaboration means an all-inclusive service for every measuring solution. From temperature, depth and pressure sensors to remote calibration equipment, each company can be helped with its decision-making process, with accurate, robust, reliable and proven measuring equipment. The partnership offers bespoke instruments, tailored and made to individual and specific requirements.
Phil Burns, MD of Sandhurst Instruments said "We are delighted to enter into this collaboration. H&B sensors and Sandhurst Instruments are both market leaders in their own right, and this partnership will present a formidable force, as we continue our strategic growth together"
Andrew Homer, MD of HB Sensors said, "We are really excited to be working with Sandhurst Instruments, this new partnership will enable both companies to unlock opportunities that mutually benefit our respective customers and enable us to offer an enhanced offering."
Sandhurst Instruments has been supplying the water utility industry for over 50 years, offering affordable WRAS approved water measuring instrumentation. It takes pride in educating future generations of engineers, enabling them to manage this precious resource whilst protecting the environment. H&B Sensors has been manufacturing an extensive range of temperature measurement instrumentation including RTD's, Thermocouples and Thermowells since 1978. Specialising in industrial and hazardous area products it delivers bespoke and turnkey solutions for global industries from oil and gas to aerospace and pharmaceutical.
Click here for the full release
w: https://sandhurstinstruments.co.uk/