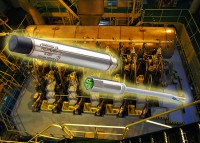 Proximity probes
Published: 25 January, 2021
Condition monitoring specialist SENSONICS offers an extensive range of proximity sensors which includes its fully integrated PRI SERIES which build upon the success of its established Senturion proximity probe range. The company says the innovative PRI Series is a single probe assembly solution featuring direct processed outputs which eliminates the need for a separate driver. The benefits are a more cost-efficient and easy-to-install solution as there is no driver, extension cable or associated driver housing, so capital and installation costs are kept to an absolute minimum.
Proximity probe systems are usually made up of a calibrated probe, extension cable and driver. The new PR l04 proximity probe system is a fully integrated probe with all these elements contained in the probe body.
Click here for the full release
t: 01442 876833.
e: sales@sensonics.co.uk
w: www.sensonics.co.uk / www.sensonics.co.uk/condition-and-vibration-monitoring-sensonics-solutions/