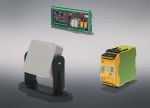 Safe radar system solution
Published: 25 July, 2019
PILZ says new to its safe sensor technology portfolio is the world's first safe complete radar solution for protection zone monitoring. It comprises the safe radar system "LBK System" from Inxpect S.p.A. and the configurable small controller PNOZmulti 2. As radar technology is fundamentally insensitive to external influences such as dust, rain, light, sparks or even shock, the solution provides safe, economical monitoring even in the most rugged environments where optoelectronic sensors and technologies cannot guarantee availability.
Comprising up to six radar sensors - depending on the application - and one control unit, with the PNOZmulti 2 compact configurable safe controller responsible for safety in the system, the solution can be used up to SIL 2, PL d, Category 2.
Each sensor protection zone is flexible and varies depending on installation height and sensor inclination. It can be set up as wide - 110°/30° – or narrow - 50°/15° - with maximum depth of 4 m. The layout of the total protection zone and system is also flexible and can be configured up to a maximum 15 x 4 m using 6 sensors in series to create a linear barrier.
t: 01536 460766
e: sales@pilz.co.uk
w: www.pilz.co.uk and enter webcode 199914
Click here for the full unedited version of the release as provided by the company