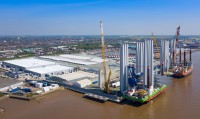 Major contract renewed
Published: 23 March, 2022
BRAMMER BUCK & HICKMAN, a leading UK supplier of industrial maintenance, repair and overhaul (MRO) products and services, has announced its contract with Siemens for the supply of tools, consumables, PPE and workwear has been renewed.
The initial contract with Siemens was awarded in 2010 and, since that inaugural date, the two companies have worked closely together to streamline the supply of MRO products and provide substantial cost savings; to date, these savings have been confirmed as over £6.5m. Overall sales since the start of the contract have been in excess of £85m.
The renewal of this contract with Siemens sees an increased emphasis on supporting sustainability, in line with its top position in 2021's DJSI Index (a globally established sustainability ranking) for its industry group.
Click here for the full release