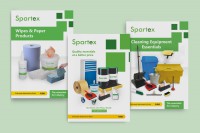 Exclusive new range
Published: 05 May, 2022
BRAMMER, BUCK & HICKMAN, a leading UK supplier of industrial maintenance, repair and overhaul (MRO) products and services, has launched the Spartex range of everyday industrial essentials.
The company says the Spartex brand has been introduced to make it simpler for customers to purchase and replenish operational and workplace essentials, such as chemicals, cleaning, storage, fasteners and work clothes. Brammer Buck & Hickman has researched and sourced a wide range of products, providing customers with choice, along with quality and competitive pricing. Spartex products are stocked in Brammer Buck & Hickman warehouses, enabling fast and efficient delivery, even at short notice.
Spartex is exclusively available in the UK from Brammer Buck & Hickman.
Click here for the full release
w: https://uk.rubix.com/en/spartex