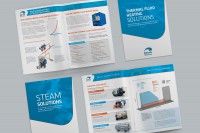 Two new brochures
Published: 28 February, 2022
Industrial process heating manufacturer BABCOCK WANSON has launched two new brochures: a guide to the company's Steam Solutions, and a Thermal Fluid Heating Solutions brochure with a focus on the applications and industries most suited to this energy efficient, easy to use process heating technology.
The new 12-page Steam Solutions brochure emphasises Babcock Wanson's expertise and in-depth knowledge of industrial steam products and services, for which the company is renown. It features Babcock Wanson's latest steam boilers.
The new Thermal Fluid Heating Solutions brochure takes a different approach, with the main focus on applications and industries that are best suited to thermal fluid heaters and that have potentially the most to gain from swapping to this process heat technology.
Click here for the full release
t: 020 8953 7111
e: info@babcock-wanson.com.
w: www.babcock-wanson.com/resources/brochures/