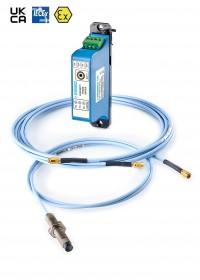 Transmitters for monitoring in hazardous areas
Published: 01 February, 2022
Machine protection and condition monitoring specialist SENSONICS has announced it has added IECEx and UKEx intrinsically safe certification, alongside ATEX certification, for its range of Senturion X DNX803 series of transmitters. These upgraded shaft vibration and axial position transmitters are approved for installation and use in hazardous areas with potentially explosive atmospheres (gases) or dusts.
The DNX8031 (shaft vibration) and DNX8033 (shaft position) proximity probe transmitters are suitable for above ground applications when used in conjunction with Sensonics intrinsically safe range of XPR eddy current type proximity probes and XEC cables.
These 4-20mA loop powered modules provide easy integration with either the local machine PLC or a plant wide DCS since it's powered through the safety barrier measurement loop.
Click here for the full release
t: 01442 876833.
e: sales@sensonics.co.uk