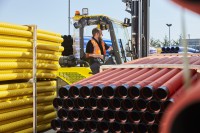 Dedicated branch now open
Published: 27 October, 2020
KEYLINE CIVILS SPECIALIST, supplier of civils and drainage products and solutions in the UK, has announced it has opened its first dedicated Keyline Plastics Specialist branch, to provide an even more extensive range of stock and a higher standard of support and expertise for plastic procurement.
The first of these dedicated branches is in Gravesend, where the Keyline Plastics Specialist branch offers customers an increased range of plastic civils and drainage products from the UK's leading manufacturers. The targeted product range includes underground drainage, utility ducting, stormwater management solutions, duct and access chambers, channel drainage, manhole covers and gully grates, geotechnics, service pipes and accessories.
This specialised focus ensures Keyline has a large quantity of each product in stock at all times, meaning sizeable orders can be fulfilled quickly and easily.
e: customerservice@keyline.co.uk
w: www.keyline.co.uk/branch-locator
Click here for the full release