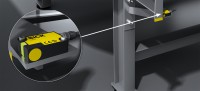 Miniature safety inductive is a snug fit
Published: 08 July, 2021
SICK has announced it has launched the IQB2S family of inductive safety switches to provide designers and operators with a unique, cuboid-shaped non-contact device - as small as a matchbox - that can be fitted easily into the smallest machine spaces.
The company says the SICK IQB2S inductive safety switch uses non-contact activation by metallic machine parts to achieve reliable, safe position, presence and area monitoring in common production and logistics safety applications.
The SICK IQB2S is therefore said to be ideal for many applications including, for example, checking the safe position of the axes of rotating tables to ensure safe conveying of the goods, or for the safe presence monitoring of a load on an Automated Guided Vehicle (AGV).
Click here for the full release
t: 01727 831121
e: andrea.hornby@sick.co.uk