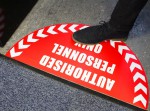 New floor graphics
Published: 19 March, 2020
A new range of quick-to-install, eye-catching floor markers, which can improve safety in the workplace, has been launched by industrial visual communication solutions specialist, BEAVERSWOOD.
The company says the range of slimline, half-circle anti-slip markers can be easily placed on any flat, sealed surface to warn people, for example, not to block the entrance to a fire door, or that they are about to enter a quarantine area, or warehouse facility where forklifts are operating. Other important standard safety messages are also available in the range.
Tested to R9 (ramp test) to comply with ISO slip resistance requirements, the markers can be swiftly integrated with Beaverswood's racksack range, or other bins, to facilitate the quick identification of waste recycling areas.
t: 0118 979 6096
e: sales@beaverswood.co.uk
Click here for the full unedited version of the release as supplied by the company