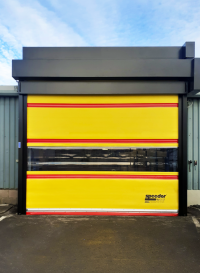 A Speedor Storm at Erwin Hymer
Published: 22 June, 2021
HART DOORS has recently completed a contract for Erwin Hymer's Consett, Co Durham, plant where a range of Hart's industrial doors from roller shutters to Speedor Storms, Speedor Minis and a combination of a Speedor Storm and roller shutter were installed.
Gordon Kipling, Hart's Northern sales manager comments that Hart has been involved with Eldiss caravans for many years prior to its acquisition by Erwin Hymer, one of Europe's largest manufacturers of motor homes and caravans.
"We are fortunate that they are going through a huge refurbishment, re-organisation and re-build project and have chosen Hart to be a part of it," says Mr Kipling. "The Storms were recently installed in a temporary warehouse and we have also installed a range of Hart's doors in other parts of the plant."
Mr Kipling adds: "This is a great demonstration of how Hart Doors and its excellent and reliable high-quality products work hand in hand with customers to provide a solution to issues they may face.
"We offer design, manufacture, installation and service of a range of doors. Our customers return to us time after time as we understand that one size does not fit all."
t: 0191 214 0404