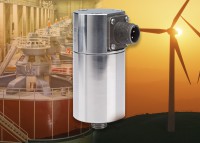 Innovative vibration sensor
Published: 30 March, 2021
Reliable and effective vibration measurement of low speed machinery (typically less than 300 RPM) helps to ensure that machinery and plant is functioning at optimal levels and is one of the areas that condition monitoring specialist SENSONICS can provide effective solutions.
In all situations the focus should be; understand the dynamic behaviour, establish a baseline vibration performance and then detect the early onset of failure in rotating parts.
In recognition of the need for a sensor to meet these specific requirements Sensonics developed its low frequency velocity vibration sensor the VEL/GLF.
The VEL/GLF is an electro dynamic sensor which has become established as the preferred option for measuring vibration on slow speed rotating machinery. It offers a superior performance compared to piezo-electric devices by combining high measurement sensitivity with a frequency response down to 0.5 Hz.
Click here for the full release
t: 01442 876833
e: sales@sensonics.co.uk