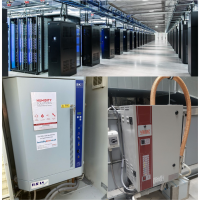 Planned maintenance
Published: 07 April, 2021
In most manufacturing and production processes, maintaining consistent environmental conditions is essential in achieving optimum performance, and relative humidity is often a critical variable.
Breaching required rh levels can also result in consequences such as costly financial penalties, enforced production downtime or machine breakdown and permanent damage to product.
By setting up a Planned Maintenance contract, managers can have peace of mind that equipment will be regularly serviced and maintained, ensuring consistent performance and pre-empting breakdowns due to out of date or faulty parts.
HUMIDITY SOLUTIONS' Eddy Capraro has responsibility for Planned Maintenance – an area which has seen steady growth in recent years. Eddy comments 'Businesses are increasingly seeing the value of Planned Maintenance as a cost- effective way of keeping equipment working at its optimum throughout its life, reducing workload and worry for site managers.'
Click here for the full release
e: eddy@humiditysolutions.co.uk
w: www.humiditysolutions.co.uk