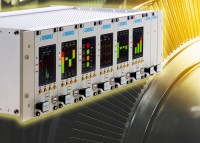 Taking machinery protection to the next level
Published: 03 December, 2020
The ability for plant engineers to rapidly identify abnormal conditions and better manage the dynamic behaviour of their rotating plant with proven, flexible and easy-to-install monitoring systems has never been more important. With this in mind machine monitoring specialists SENSONICS says it has continually developed and refined its successful Sentry G3 machinery protection system which provides outstanding protection combined with flexibility of hardware in a single, easy-to-use module type for all sensors.
Advanced features include; Vibration, position and speed parameter trending facilities, including log and view of up to 60 days of data, 'look back' at trends and alarms, plus download data for further analysis in Excel. It is also now possible to directly view proximity probe gap and vibration transducer bias voltages, to verify correct transducer operation and calibration.
Click here for the full release
t: 01442 876833.
e: sales@sensonics.co.uk