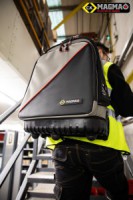 New wheeled rucksack
Published: 27 January, 2021
C.K MAGMA says following the successful ongoing development of its award-winning wheeled tool case derivatives, it has taken the logical step of expanding its popular rucksack range with the exciting addition of the Wheeled Rucksack Plus (MA2654).
The company says this innovative lightweight and compact tool storage solution is ideal for tradespeople using public transport for travelling to their place of work, or for those who need to access places where climbing and a hands-free approach is needed.
C.K Magma says its regular research and feedback from trade professionals has helped to evolve its tool storage range, which offers great insight into what works best to make tasks that much easier. This is evident with the continued evolvement of its innovative wheeled tool case options, which provide the best quality and efficient portable tool storage solutions.
Click here for the full release
t: 01758 704704