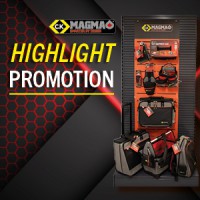 Highlight 2021 promotion
Published: 29 January, 2021
Running until April 30th 2021, CARL KAMMERLING INTERNATIONAL says its exciting Highlight 2021 promotion offers retailers and consumers fantastic savings on its leading range of C.K Magma tool storage solutions.
Working with trade professionals gives C.K Magma great insight into what works best to make tasks much easier. Its range of innovative tool storage products do just that, offering the very best options for high quality, efficient tools and test equipment storage, to suit everyone's needs.
Highlight 2021 offers new and existing customers a choice of two levels of buy-in – Entry Level and Range Level plus there's a Replenishment Level for subsequent orders – with customers benefiting from great discounts at all levels. Driving footfall into retailers forms a key part of Highlight 2021 and includes a consumer advertising campaign.
Click here for the full release
t: 01758 704704
e :sales@cki.uk.com