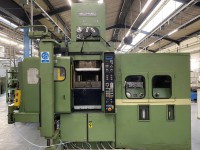 Precision engineering machines meet demand
Published: 08 December, 2020
DAWSON SHANAHAN, a specialist precision engineering firm, says it looks set to exceed its investment targets this year to meet increasing demand from the power distribution, e-mobility and medical sectors, which is expected to increase further in 2021.
As part of an ongoing strategy of investing in manufacturing assets for maximum long-term benefit, so far in 2020, Dawson Shanahan has committed over £500,000 on new machinery.
Despite Covid-19 and its impact on the plant – 50% of the staff were furloughed – Dawson Shanahan says it has still met the growing demand for precision engineered products and services. As well as a further Citizen ABX and a Schmid T200 Orbital Forge which will be used initially for making plasma nozzle components reducing both material waste and cycle times.
Click here for the full release