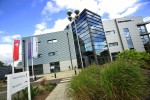 Celebrating 50 years of Swiss engineering
Published: 31 October, 2018
Measurement and automation specialist ENDRESS+HAUSER says it is in great shape as it is about to celebrate its 50th anniversary on 11 November 2018. Now employing over 200 people, and with an estimated turnover of £46 million in 2018, the measurement and automation engineering specialist says it continues to break new sales records.
Part of the Switzerland-headquartered Endress+Hauser group, the UK sales and production centre was founded in 1968 by Dr Georg H Endress, the grandfather of the current managing director. Originally situated on Southmoor Road in Manchester, the company moved to its current site on Floats Road in 1996. In 2008 the company opened a new £8 million state-of-the-art office and engineering facility to support its growth, followed in 2013 by a £1 million training centre incorporating the latest digital technology.
Over the last 50 years Endress+Hauser says it has developed from a vendor of devices and instruments to a full-range services provider working with customers in process industries such as food and beverage, water and wastewater and oil and gas.
Steven Endress took the reins as managing director in 2016, the first third-generation member of the Endress family to take an operational role in the family business. Reflecting on the 50-year anniversary, he said, 'Over the years our buildings and the scope of our offer have changed as we seek to align with our customers' needs. But, without doubt, our most important asset is our people. It is the drive, ambition and attitude of my colleagues that makes the difference.'
t: 0161 286 5152
e: helen.white@uk.endress.com
Click here for the full unedited version of the release as provided by the company