Head protection range
Published: 11 January, 2018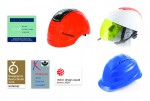 Worker safety specialist ALPHA SOLWAY, part of Globus Group says Europe's multi award-winning range of safety helmets by ENHA are now available in the UK and Ireland. The company says as a well established and respected innovator in head protection across mainland Europe with a reputation for quality and performance, ENHA's extensive range of safety helmets has been designed to provide protection for workers across multiple sectors including construction, utilities, manufacturing, engineering, metal working and forestry.
Alpha says the new innovative range of hard hats provides safety managers with a fresh opportunity to reinvigorate the head protection provided to workers and designed and manufactured in ENHA's German facilities, using cutting edge technology and production techniques, all ENHA helmets conform to EN 397 having been tested under different temperatures between 50°C and -30°C.
t: 01461 202452
e: sales@alphasolway.com.
w: https://try.alphasolway.com/enha-helmets
Click here for the full unedited version of the release as provided by the company